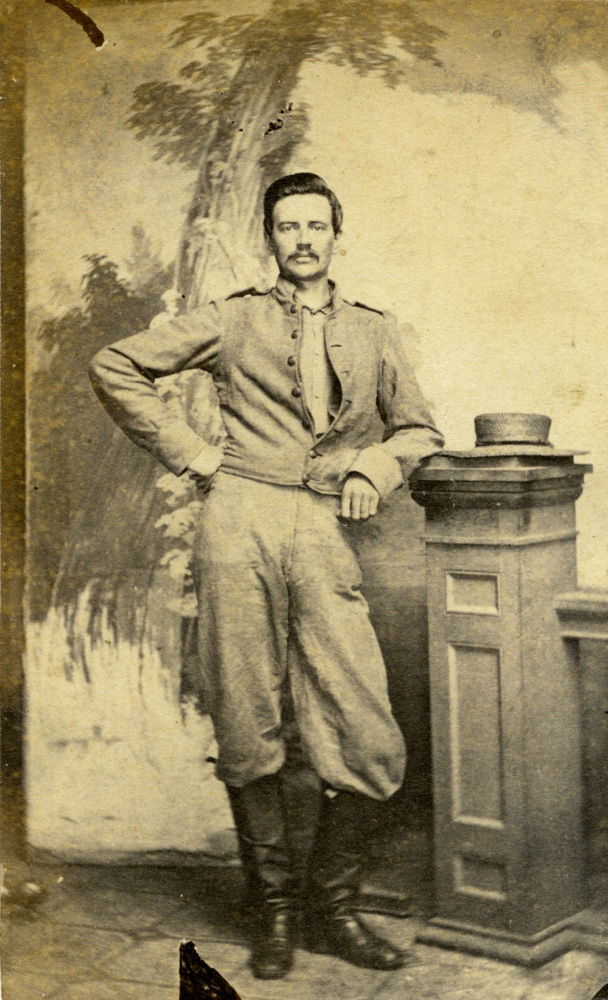 Reuben Kay was born in Dover, Tennessee, in 1838. At the age of 14, he entered the Kentucky Military Institute in Frankfort, graduating in 1858. He then joined his family in St. Joseph, Missouri.
In 1861, Kay joined the Missouri State Guard and served as an aide to Colonel John Taylor Hughes, commander of the 1st Infantry Regiment, 4th Division, at Wilson's Creek on August 10, 1861.
Later in the war, Kay served as adjutant of the 7th Missouri Cavalry (C.S.), and became assistant adjutant general on the staff of General M. Jeff Thompson. In August 1863 he was captured in Randolph County, Arkansas, and was sent to prison camps in Alton, Illinois, St. Louis, and Johnson's Island, Ohio, before being paroled in early 1865.
After the war he returned to St. Joseph, but finding it changed, he moved to Frankfort, Tennessee, and went into the dry goods business.
Rueben Kay died of pneumonia on December 18, 1883, at the age of 44.
Carte-de-Visite by Smith & Wybrant, Louisville, Ky.
Image Courtesy Wilson's Creek National Battlefield; WICR 31501